What is Ozhands
About Us
Why Sell With OzHands?
Why Shop at OzHands?
What is Ozhands
Ozhands is an online marketplace, specializing in facilitating the growth of Australian Businesses. We provide the publicity you need to attract customers, then send it straight to their door.
As a B2B marketplace, we connect multiple buyers and sellers on one site, promoting efficiency and ease for your organization. We provide both retail and wholesale options for our consumers, expanding the market and increase profit margins to sellers.
"Efficient and Easy"
Customers are directed straight to your website, meaning all business goes through you and all pay goes to you!
Once you receive an Wholesale/Export order as a seller through Ozhands, we'll record the details and handle it from there if you wish. Our team of experienced professionals work exclusively in logistics management for Australian Businesses, thus ensuring accountability in our processes.
Ozhands is here for you!
As a fellow local business, we appreciate that responsibilities and costs quickly overcomplicate themselves. This is why we prioritize our relationship with our customers and will be with you every step of the way.
"Prioritise our relationship with buyers and sellers"
Ozhands is the very first of its kind; incorporating the efficiency of an online marketplace with the simple satisfaction of partnering with freight forwarders and logistics agents.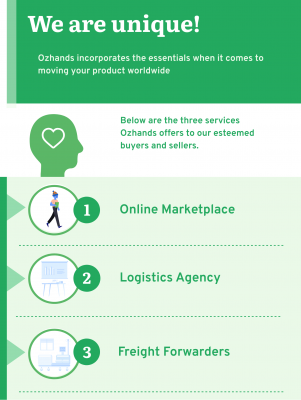 "NO COMMISSION"
We have made it easier and cheaper than ever to get your products sent worldwide. Sellers pay a flat rate (less than $1) per listing and that's it! Click here to start listing with us.
You can trust that your Australian Business will be safe in our Ozhands.
About Us
Why Sell With OzHands?
Why Shop at OzHands?